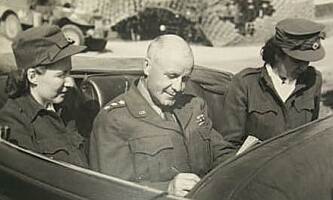 The picture above shows Lieutenant General Omar Bradley with two Clubmobile members. The woman on the right side wears the cap variant described above. General Bradley was a great and unselfish leader who was known as the "Soldier's General".
In Europe, the Clubmobile workers performed their duties close to the frontline and thus provided an important boost to soldier morale. For example, their service in forward areas of France was encouraged by General Omar Bradley for this reason.
.v
Red Cross workers assigned to the armed forces could wear a corresponding patch on the upper right sleeve. The former member of the uniform shown above was assigned to the 12th Airforces (which served in Sicily, Italy and France during WWII).