Here is what you need:
.
.
(You may want to scale the images to the correct fan size. The original fan height is 7 inches.)
.
How to build your fan: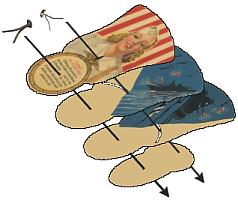 You need:
- scissors (and/or cutter knife)
- glue pen
- two rivets or two split pins (such as for padded envelopes).
Download the two images. Print them out (in landscape format) in best quality on photo paper, normal paper or on cardboard (only if your printer can handle thin cardboard!). If you can't print on cardboard, you have to glue the prints onto thin cardboard (apply glue full-coverage to the rear side of each image!). After drying cut out all four parts (also the black arched areas on the inner two fan parts by using a cutter knife). Drill or cut out tiny holes at all cross markings (hole sizes depends on your rivets or split pins). Place all parts one above the other as shown in the picture above and insert the rivets or pins into their places. Fix the rivets or pins by bending the ends. Try to pull out your fan sides- does it work? You can shape the edges if some parts jut out in the lower areas.
Enjoy your fan!