Links
.
Here is my compilation of recommended websites about:

.

.
If you have further interesting links for this list, please let me know.
.

History of American Service Women
.

...
Military Women Veterans
Yesterday - Today- Tomorrow
.



.

This great website wants to remind the visitors that women are veterans too! On these pages, you will find the history and accomplishments of those women who have served for the United States of America - voluntarily - since it's beginning.
.
...
Women Veterans Historical Project
..



.
The Betty H. Carter Women Veterans Historical Project documents the female experience in the Armed Forces through letters, papers, photographs, published materials, uniforms, medals and oral histories. Impressive and most informative website!
.
.....
The Women's Memorial
.

This web site is about the Women's Memorial at Arlington National Cemetery. The Women's Memorial is a unique, living memorial honoring all military women - past, present and future - and is the only major national memorial honoring women who have served in our nation's defense during all eras and in all services. The section about history and collections contains very interesting and detailed information about service women during WWII.
.
.....
Women of World War II
..



,
Comprehensive collection of public domain photos and images of US military women in World War Two.
.
.....
Women Nurses Throughout War History
..



,
This website gives an overview of the achievements of women nurses throughout war history ( including interesting recollections of several combat nurses).
.
.....
Regis College
..


,
This website
offers a great overview of female nurse achievements in the article "American History: Influential Female Nurses."
.
.....
The History of Wartime Nursing
..



,

This website gives a good overview of wartime nursing.

(Additional websites which cover one service branch only are listed under the
source page of the corresponding service section on this homepage)
.

Interesting Sites with Information
for Female Re-enactors (WWII)

.

United States
Hardscrabble Farm
.

World War II Living History & Reenacting Information. Original photos, reference material (including WAC), and photos from reenactments. Massive link directory and information about all topics. See section: World War II
.
Netherlands
The Para Research Team
.

Great website with massive scrapbook about WWII presenting stories, pictures, personal items, music and lyrics, rations, data bases, WWII brands and much more. Includes also a nice section about women in WWII.
.
...

WWII US Women Reenactment Groups
(or groups who accept female re-enactors)

United States
.
Army Air Corps WWII 1941-1945 - Living History Group

.

.
This living history group portrays servicemen and servicewomen of the Army Air Corps. Female impressions include WASP, Flight Nurses and Air WACs. The group dresses in period uniforms and displays pictures and equipment. Their activities include participation in air shows and parades.
.
Tennessee WWII Reenactors

.
.
This living history group is located in Tennesse. Their work is dedicated to honor all WWII veterans through educating the public on the homefront and military contributions of the "Greatest Generation". Female impressions are present and welcome.
.
48th Surgical/128th Evacuation Hospital
.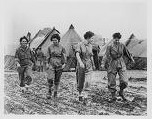 .
The members of the 48th Surgical/128th Evacuation Hospital Living Gistory Group are a group of like minded individuals, who want to educate the public about the men and women of World War II. Founded in 2006, they represent the first American Hospital in combat during WWII from 1941-1945.
.
.
Europe
.
United Kingdom
514th Q.M. Truck Regiment
including American Red Cross Clubmobile Unit
.

.
This English group of women decided to accompany the 514th Q.M. Truck Regiment Re-enactment Group as ARC Clubmobile workers.
.
United Kingdom
4JAS
.


.

The 4JAS WW2 Re-enactment and Living History Association represents Dog Company 506th PIR, 101st Airborne Division. There is also a smal Women's Army Corps section and the Homefront, both militarily and civilian is also represented.
.
Netherlands
Vereniging Historische Militaria

.
..
This Dutch Living History and Reenactment Group includes female members portraying various Amercian servicewomen (WAC, ANC.ARC), British servicewomen, and civilians.
Poland
Green Light
.



.

The historical reconstruction group "Green Light" includes a section for American servicewomen (e.g. a WAC group). Contact can be made via the facebook page of the group or directly via e-mail grhgreenlight@gmail.com
.
Italy
G.S. 2194 - GRUPPO STORICO 2194
.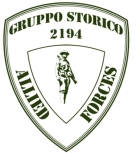 .
This Italian reenactment and military vehicle group of WWII Allied forces visits events in Italy, Belgium, and France. It also includes a group portraying female civilians from the 1940/1950.
.
..

Allied Women Reenactment Groups
(or groups who accept female re-enactors)
.
Switzerland
6th Bn. Durham Light Infantry

,.

,.
This Swiss group of women and men portrays the life of British soldiers during WWII. It displays uniforms and equipment, keeps in contact with veterans and veterans organizations and takes part in commemorations. The page contains a lot of information about British uniforms (with a special part about women's uniforms), equipment and history of the portrayed unit. The homepage language is German, but even if one can't understand the texts it is worth to take a look at all the excellent photographs.
,.
Netherlands
Vereniging Historische Militaria

,.
,.
This Dutch Living History and Reenactment Group includes female members portraying various British servicewomen (WAAF, ATS, WRNS, WVS, QAIMNSR), Amercian servicewomen, and civilians.
,.
France
Les Filles de la D.B.

,.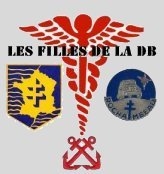 ,.
This webiste is dedicated to the women volunteers who served with the 2e Division Blindée of Général Leclerc named the "Rochambelles" and the "Marinettes". Great information about this rarely known Allied women's service, its uniforms and the girls who portray this organization at reenactment events.
,.




.

Germany
LG3949
.
.
.
The goal of our German living history group is the vital examination of the Second World War and the postwar period in Germany. The site provides a German and English version.
.
Netherlands
Historische Adviesebureau 30-45
.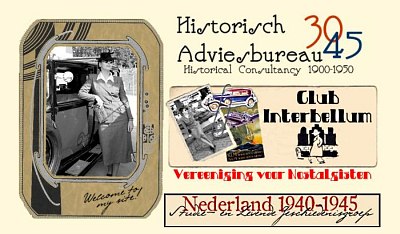 .
Joeri's impressive homepage includes a "Historical Consultancy" where you can get professional, authentic and historically correct advice about the first half of the 20th century. Under "Going Retro - the Dutch Way" you will find lots of excellent information about retro lifestyle (including dancing, fashion, music). Additionally, her study and living history group "The Netherlands 1940-1945" will give you a very good impression how the civilian population lived through the occupation of Europe during the Second World War.
.
.United Kingdom
Home Front Friends
.

.
Harry and Edna's Home Front Friends web site features their educational historical roles and interpretation focusing on British 20th century social history. Their speciality is WW2 British home front and offer historical interactive talks, educational workshops, living history, re-enactment performances and museum interpretation.
.

Switzerland
Detachement 40



This group is a section of the NCO Society of Uster / Zürich. Their aim is the history of the Swiss army in the first part of the 20th Century. The auxiliary services have a special place in their work. The group has many female members who are showing the role of the Swiss women serving Switzerland in WWII.

.
1940s Lifestyle

.

Germany
Swingstyle
.


.
Our other website about 1920s to 1940s common-culture, music and fashion. Includes an online-museum about: Fashion - Dancing - Music - Common culture - Movies - Technique - Living.
.
.
WWII Military Related Sites
.
....
Germany
M201.de
.


.

Website dedicated to US-Army military verhicles - especially Willys Jeep, Jeep M38, Jeep M201.
.
Germany
Comand-Car.Com
.



.

Command-car.com is a private homepage from an individual Dodge enthusiast.
First concern is to show historical photos and vehicle details of WWII Dodge Trucks. Great pictures from WII military vehicle and WWII reenactment events.
.
United Kingdom
Through Their Eyes
.



.
Huge military photo archive providing wartime images taken by the servicemen who were there. The website owner offers high resolution scans on cds of the original photos, produced from British, German and United States servicemen, spanning both World Wars and other conflicts.
France
Provence44
.



.

Website of the Association du musée Franco-Américain du débarquement de Provence which documents the landing of American troops in the French Provence during 1944. The association offers a fantastic exhibition, interesting events, and reenactments.
.
USA
Cars, Tanks and Airplanes of WWII
.



.

Great resource for all people interested in military vehicles used for combat and transportation. Includes an extensive link list to related websites.
.
.
WWII Uniform/Insignia/Equipment Reproductions
.
WWII Impressions
WWII Impressions sells for example the following Army women's garments:

HBT jacket and trousers with fatigue hat
Enlisted WACs winter service uniform + garrison cap
Enlisted WACs summer service uniform
WAC officer's winter service uniform
Wool waist

What Price Glory
WPG sells for example:

Enlisted WACs summer service uniform
Enlisted WACs ETO uniform
Hobby Hats, Army Nurse service caps,
Officer's garrison caps,
WAC and Army Nurse Purse
WAC shoes
WAAC/WAC insignia

At the Front
WWII Combat equipment and militaria.
They sell reproductions of men's items- but some could be used for female impressions as well. Great hints about the care of uniforms and interesting background information about several items.
www.1903.com
Reproductions of nearly all kinds of WWII aviation wings (including flight nurse wings, WASP wings, etc.) at reasonable cost.
Vanguardmil
Modern military buttons, sleeve stripes, insignia, dress scarves, cuff links for nurse's work uniforms, etc. (but be careful! Some designs and materials have changed since WWII).
Garcia Aviation
Garcia Aviation sells for example:
Several insignia (like Army officer's insignia useable for WAC officer's impressions; WASP insignia), different patches, male flight gear useable for WASP impressions.
Quartermasterstores
sells original US Army clothing from the 1920s to 1950s including women's uniforms. The seller is located in the UK, but also sells his items at various military shows in Europe. For more information contact: UK mobile phone: 07767458502
(due to spam filter for unknown email addresses please contact via mobile phone) www.quartermasterstores@hotmail.co.uk
6thjune1944
quality replica WW2 insignia and badges
located in France, Ste Mere Eglise Normandy
Warhorse and Reproductions of History
Reproductions of WAC/ANC/WAVES/NNC uniforms and accessories located in the UK.
After The Battle
Original items and reproductions of WWII Army uniforms and equipment located in Germany
USMC WW-II DOG TAGS
authentic WW-II pattern USMC/USN/USCG reproduction dog tags--fabricated out of stainless steel
WWII Dogtags
Authentic patterned WWII Army Dog
Tag reproductions made of stainless stainless steel
.