Facts about the NNC
.
Requirements for Joining
.
An applicant for the Navy Nurse Corps had to meet the following requirements:

.
| | |
| --- | --- |
| * | Minimum preliminary education: High-school graduate |
| * | Registered Nurse; graduate from a school of nursing approved by the Surgeon General |
| * | Age 22 to 28 |
| * | Citizen of the United States or naturalized citizen for 10 years |
| * | Single, widowed, or legally separated |
| * | Physically qualified |
| * | Satisfactory credentials from training schools and other sources |
.
.
Nurses could also apply to the Naval Reserve Nurse Corps. Reserve Corps nurses were only appointed for duty with the Navy in time of war or National emergency for such time as their services are required. They received the same pay, allowance, and privileges as the Regular Corps. Permitted age for joining the Reserve was between 21 and 40 years. The membership of the Red Cross Nursing Service was acceptable in lieu of the usually requested credentials. Reserve Nurses were allowed to transfer to the Regular Corps if they met the requirements.
.
.
Regular Navy Nurses and Reserve Corps Nurses were appointed by the Surgeon General with the approval of the Secretary of the Navy. Nurses of the Regular Corps began with a 3-year appointment.
.
| | | |
| --- | --- | --- |
| Physical examination of a Navy Nurse Corps applicant | .. | The physical qualifications were set high. Some common causes for rejection were: defective vision below 12/20 in each eye unaided by glasses, defective hearing, deformity of disabling character, constitutional disease, acute or chronic skin disease, enlarged or chronically diseased tonsils, loss of teeth or non vital teeth, diseased condition of lungs or chest, diseased heart, blood pressure above or below normal, disease of kidneys, disease of the abdominal or pelvic viscera, abnormal mental or nervous disturbances. |
.

The following table shows the required height and weight. Height had to be taken without shoes and 5 pounds were deducted for clothing.

.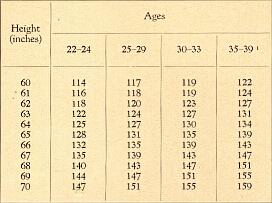 1 A variation of 15 pounds may be made in certain cases.
.
Navy nurses could be discharged for the following reasons:
.
1. Violation of ethics
2. Not adaptable to Navy Service
3. Lack of physical endurance
4. Excessive sick days for minor complaints
5. For the good of the service
.
In fact, most resignations were requested due to marriage.
.

Types of Duty
.
Probationary Period

.
Every Navy Nurse and Naval Reserve Nurse served a 6 months probationary period for observation of her adaptability, endurance, and professional qualifications for the Navy service. Afterwards, she was recommended for acceptance or rejection by the commanding officer of the station to which she was assigned.
.
During the probationary period, the nurses had to take classes in Navy protocol, Navy policy and procedure. Additionally, they had classes in marching, drilling and swimming. If desired, there was the opportunity to take special courses.
....

Navy Nurses going on duty
.
| | | |
| --- | --- | --- |
| This lieutenant commander inspects his baby in the dependency ward of the hospital at the Naval Air Station in Alameda, California. | ., | The duty of Navy Nurses was to provide adequate nurse care for the Navy, Marine Corps and Coast Guard personnel. This included the members of the Women's Reserves. Additionally, they cared for dependents where facilities were available for their hospitalization. |
.
Nurses had the opportunity to administer medical tasks within the specialties of their profession such as anesthesia, dietetics, physical therapy or executive duties.
.
Teaching hospital corpsmen was one of the most important duties of Navy Nurses. They were responsible to make these men capable of conducting nurse duties aboard combat ships and in other positions where Navy Nurses were not allowed to serve. Since March 1943, Navy Nurses also trained WAVES (Women's Reserve of the US Naval Reserve) for hospital duty inside continental USA.
During peace times, Navy Nurses at overseas stations had helped to establish hospitals and trained native women, but this service mostly was suspended for the duration of the war.
.
Under special circumstances, Navy Nurses were assigned with temporary additional duty orders (TAD). For example, they helped to evacuate women and children who were Navy dependants on transport ships from endangered places.
Promotion was considered for nurses who demonstrated unusual ability for the service, and adaptability. Such nurses were selected upon the recommendation of the commanding officer of the station to which they were assigned.
..


Navy Nurse teaching hospital corpsmen in a classroom

.
.


Administering physical therapy
.

Most general assignments of Navy Nurse were:

| | |
| --- | --- |
| - | Ward supervision and administration |
| - | Out-patient dispensary work |
| - | Industrial clinics in connection with naval construction |
| - | Naval air base or Marine Corps air base dispensaries |
| - | Transport service |
| - | Hospital ships |
| - | Operating room supervision |
| - | Anesthetists |
| - | Naval training station hospitals |
| - | Foreign duty |
| - | Hospital Corps Training Schools as instructors |
| - | Pediatric clinics |
| - | Physical Therapy |
| - | Convalescent hospitals |
| - | Dietetics |
| - | Officer Procurement Offices |
| - | Family hospitals |
| - | First aid stations |
| - | Ammunition depots and dispensaries |
Hospital Ships
.
The service on Navy Hospital ships was an important and high ranking assignment for Navy Nurses. At the outbreak of war, the Navy had two hospital ships, the USS Relief and the USS Solace. A total of 12 Nurses were serving abroad the USS Relief and 13 nurses abroad the USS Solace. During the war, the number of hospital ships was increased to fifteen.

(Three of these fifteen hospital ships (the USS Comfort, USS Hope and USS Mercy) were manned by Navy crews but staffed with Army medical and surgical personnel.)

...

Ward on the hospital ship USS Relief
.
Navy Nurse on a hospital ship superintendents the bringing aboard of a patient.

..
During 1942 and 1943 the urgent need for more hospital ships became apparent. While the nurses were trained, the hospital ships were being converted from other ships on hand.
The USS Bountiful, USS Refuge and USS Samaritan were converted from transport ships into hospital ships during 1944 because of the increasing number of casualties on an emergency basis. These added hospital ships were not enough to handle the tremendous casualties from the many island invasions and naval battles that took place in 1944.
.
By 1945, the Navy was desperate for sufficient hospital ships. The USS Rescue was converted from a seaplane tender in 1945 because the need for treating casualties in the Pacific battles became much greater than the need to maintain seaplanes. Finally, late in the war, the USS Haven, USS Benevolence, USS Tranquillity, USS Consolation, USS Repose and USS Sanctuary were converted from C4-S-B2 type cargo ships into hospital ships of a consistent design for modern fleet operations (known as the "Haven" class). Unfortunately, they did not join the fleet until 1945, which was the last year of fighting for America in World War II.
.
| | | |
| --- | --- | --- |
| They functioned as hospitals and medical supply ships, servicing advanced base hospitals and warships. While former hospital ships had space for about 450-750 patients, the "Haven" class provided places for 802 patients (742 enlisted, 60 officers), a number that could be increased to over a thousand in an emergency. The nurse's quarters had accommodation for thirty nurses. | .. | Hospital ship ward |
.
| | | |
| --- | --- | --- |
| Navy Hospital Ship USS Benevolence | .. | After the Hague Convention of 1907, the hospital ships were always white with a wide green band painted around the hull and large Red Crosses for easy identification. They were fully lighted at night. |
.
| | | |
| --- | --- | --- |
| On board the nurses had double duty as nurses and administrators. Most patients had to be treated because of burn cases (from ship hits), combat wounds or malaria (in Pacific areas). The nurses lived under frequent alerts. Life-vests and gas masks were constant companions. | .. | Navy Nurses in life jackets aboard a hospital ship in the North Atlantic Ocean. |
.

After the end of war, a special duty of some hospital ships was to collect and process Allied prisoners of war. In the South Pacific, first POWs already were taken aboard in September 1945.
..
Flight Nurses
.

Later in the war, a new work field for Navy Nurses was opened: air evacuation. This was considered an exceptionally elite position, and allowed only the finest nurses. Soon this assignment ranked even higher than duty in Pearl Harbor or on a hospital ship, which had always demanded the best nurses.
.

One of the two flight nurses who helped to establish a Brazilian Flight Nurse school with several members of the first training class.
..
The first two Navy nurses started their training as flight nurses in December 1943. They were sent to the Army Air Force School of Air Evacuation at Bowman Field, Kentucky, since the Navy had not established its own flight school yet. The two nurses were assigned to assist in setting up air evacuation training for the Brazilian Air Force nurses after finishing their course. Evacuation by air was very valuable for Brazil in peacetime as well, because only planes could reach patients in inaccessible jungle and mountain regions.
The two nurses arrived in Rio de Janeiro on 30 January 1944. These two nurses not only provided pioneer work in teaching the students in Brazil their knowledge as flight nurses, but also pioneered in establishing and popularizing a modern nursing school there. Both received the Navy Commendation Ribbon for their service in Brazil.
.
At the end of 1944, the Navy set up its own school of air evacuation at the Naval Air Station (NAS) in Alameda, California. The first course for flight nurses opened on 11 December 1944. Out of an overwhelming number of applications, 24 Navy Nurses were selected to take part in the training. Flight surgeons, widely considered as among the most highly-qualified medical doctors available, were the course instructors. The course lasted 2 months and included training films, lectures on aeronautical medicine and advanced medical demonstrations.
.
The nurses learned how to handle patients in case it would be necessary to ditch the plane and how to manage life rafts and immersion suits. They were put through decompression chambers to get to know how oxygen deprivation feels by actual experience. They were taught how to load and unload litter patients. They had to practice survival drills. Since most of the air evacuation was over water, every flight nurse had to be a very good swimmer. For example, flight nurses had to be able to swim a mile, tow or push a victim for 220 yards, race through the water for 440 yards in ten minutes and swim under water (to escape burning oil).
..

.
A flight nurse helps load litter patients into an evacuation plane.
.
All applicants had to pass the AAA tests which were required for pilots. Due to these high requirements and the limited number of admissions not more than a fifth of the nurses who volunteered were accepted for flight nurse training.
The task of air evacuation was assigned to the Naval Air Transport Service (NATS). The 24 flight nurses of the first class, 24 corpsmen and a flight surgeon were to staff the first 12-plane air evacuation squadron VRE-1. They started their active flying service directly after the first training course was completed. In March 1945, the first Navy flight nurse to set foot on a battlefield helped to evacuate wounded Marines from Iwo Jima while the battle for the island was still in progress. By the middle of March, nearly a hundred flight nurses were serving.
.
| | | |
| --- | --- | --- |
| A member of the first class of Navy Flight Nurses in charge of patients from Okinawa in one of the big, four-engine Naval Air Transport planes. | .. | The air evacuation program was a big success. The most massive air evacuation of patients from a battle zone during Word War II was undertaken during the Okinawa Campaign that started on April 1945 and ended in June. In six weeks the NATS VRE-1 squadron evacuated 9,600 casualties despite extremely bad weather conditions, constant hostile fire from enemy positions, poor airfield conditions and extremely long and very dangerous flight paths. |
.
| | | |
| --- | --- | --- |
| The hospital planes carried patients with head wounds, extensive burns, fractures, amputations, malaria and combat fatigue. Among other things, the flight nurses prepared and served food, administered medicines, gave blood plasma and changed dressings during the flight. | .. | Flight nurse caring for a wounded soldier |
.
.
[ I. Development ] [ II. Facts about the NNC ] [ III. Uniforms ] [ IV. Sources ]