Facts about the WAC
.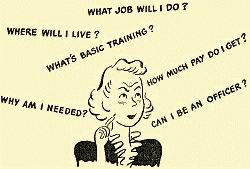 .
Requirements for Joining
.
*

Age 21-44, (after change to the WAC in July 1943 the age was increased to 20-49)

*

US citizenship

*

Excellent character (2 character witnesses from responsible business or professional
people required)

*

Good Health (tested during a physical examination)

*

average height and weight

*

Married or single

*

Dependants: no children under 14 years of age

*

Education: two years of high school or passing a mental alertness test where aptitude rating shows equivalent ability (The mental alertness test took about an hour. Applicants had to choose the right answer for the question out of four given answers)
.
Training.
.
The duration of the basic military training was 4 weeks when the WAAC started. Later it was expanded into 5 and even 6 weeks in 1944.
The basic training was given in special WAC Training Centers. The first one, Fort Des Moines/Iowa opened on 20 July 1942. The second one on Daytona Beach, Florida was activated 3 month later. Fort Oglethorpe /Georgia, Fort Devens/Massachusetts and Camp Ruston/Louisiana followed. But before the end of 1943 all were closed because of insufficient demand except for Fort Des Moines and Fort Oglethorpe.
,,,
.
The basic training consisted of 23 courses taking up to 176 hours.

For example members of the WAC learned about army organization, map reading, safeguarding military information, mess management, military customs and courtesy and property responsibility.

Additional physical training was given to insure best fitness of the women before they took up their new duties as women soldiers. Next to gymnastics, games and sports they learned to exercise "close-order drill".
.
At the end of the basic training every WAC had to pass aptitude tests to determine the type of work the WAC would be best fitted for. WAC personnel then could be assigned to start the recommended duty work at an Army post or visit a specialist school.

Specialist school training could last another 5-12 weeks depending on the chosen work field. For example, among those specialist courses were: clerks' course, cooks' course, motor transport course, photographic laboratory technician course, code clerk course, medical, surgical and dental technician course, laboratory technician course, X-ray technician course and Army finance course.
.
| | | |
| --- | --- | --- |
| Recruitment brochures pointed out that every qualified member would have the chance to become an officer. After 3 months of active duty at the earliest enrolled WAC members could apply for the Officer Candidate School. | | Their appointment as an officer candidate depended on her writing skill, oral examinations, her record and her qualities of leadership as determined by her commanding officer. |
.
The officer training course took twelve weeks. Officer candidates were taught about requisition and supply, military equipment and company administration in a 21 portion course (total duration of 264 hours). Successful graduates were commissioned as second lieutenants in the Army.
WAC officers were addressed as "Ma'am".
.
Types of Duty
.
..
WAC members could render their noncombat duty throughout the Army.

About a third of the WAC personnel served in the Army Air Force (so called "Air WAC").

Nearly half of the WAC members served in the Army Service Force, and the remainder were either deployed with ground forces, in transit or involved in training tasks.
.
The list of jobs enlisted WAC personnel could execute expanded fast.
At the end of 1943 already 239 types of Army jobs were offered.
.
.
WAC officers could command WAC companies, administer the affairs of WAC personnel in the training center, teach basic training and courses in specialist schools or could be assigned as assistants to higher-ranking officers in practically all phases of Army operational jobs. Their job list included adjutant, administrative, bombing records, civilian classification, cryptography, engineering exchange, fiscal and budget, information and filter center, insurance, intelligence, laundry management, legal, mess, meteorology, message center, motion picture, motor transport, music, personnel, photography, postal, public relation registrar, ration, signal officer, special services, statistical, school secretary and supply.
.
WAC personnel were stationed on Army posts throughout America as well as serving abroad after December 1942. Beginning with North Africa, WAC members served in England (July 1943), in India (October 1943), in Australia (May 1944) and in France (July 1944). Usually the WAC stayed miles behind the fighting lines, but sometimes they were very near to the front in tent hospitals and forward headquarters. The danger for women of the WAC was everywhere, however, because a person could be killed or wounded by flying rockets in England or Antwerp, supposedly far away from the frontline.
In September 1944 5,425 WACs served in Europe, of which 310 were officers. Peak strength in ETO was 8,316 on July 1945. Over 4,700 enlisted WAC members were stationed within the Southwest Pacific Area by the end of 1944.
.
WAC Payment
.
Furthermore WAC personnel received free food and lodging, free supply of clothing and equipment as well as free medical and dental services.
They were entitled to the same benefits like Army men. For example life insurance at low Army rates, free mail, furlough rates on railroad tickets, special rates at movies and theatres, government prices at the post exchange, hospitality by USO, Red Cross and special service clubs. Furlough was 30 days a year (if one could be spared from duty).

Officers received $150 - $333.33 a month basis pay plus additional compensation for quarters and rations. Dental and medical care was also furnished.

.....
Payment Enlisted Women:.
.

| | | |
| --- | --- | --- |
| Rank | Pay per year | Pay per month |
| Master Sergeant and First Sergeant | $1656 | $138 |
| Technical Sergeant | $1368 | $114 |
| Staff Sergeant | $1152 | $96 |
| Sergeant | $936 | $78 |
| Corporal | $792 | $66 |
| Private, 1st class | $648 | $54 |
| Private | $600 | $50 |

(2% additional pay if assigned to overseas duty)

.
.
Payment Officers:
...

| | |
| --- | --- |
| Rank | Pay per year |
| Colonel | $ 4000 |
| Lieutenant Colonel | $ 3500 |
| Major | $ 3000 |
| Captain | $ 2400 |
| First Lieutenant | $ 2000 |
| Second Lieutenant | $ 1800 |
.
WAC Songs
.
.

...

"A singing Army is a happy Army"

Within a short time the Women's Army Corps built up its own tradition. An important part of this tradition was the WAC's own songs. This strengthened the feeling of belonging to a big familiar community. They expressed their self-confidence and esteem to be part of the Army of the United States.
In August 1944 the WACs received their first official WAC song book.
.
Here are some nice examples from the content:

Yes, By Cracky

Yes, By Cracky, I'm a little WAC-y
I'm a little soldier girl,
I live in barracks, best you've ever seen,
March to mess, and always keep my shoes clean.
Yes, By Cracky, I'm a little WAC-y
I'm a little soldier girl.
I fall in! I fall out!
I fall asleep in class, no doubt - but
Yes, By Cracky, I'm a little WAC-y,
I'm a little soldier girl.
.
The WAC Is A Soldier Too

While you fight for us, we've a part we can play,
For the WAC is a soldier too.
We can type and file in the Army way,
For the WAC is a soldier too.
We can drive a truck. take our place in the mess,
We'll be there to see this through,
We'll replace you men while you fight at the front
For the WAC is a soldier too.
Pallas Athene, Goddess of Victory,
History tells her part in War,
And our own Statue of Liberty
Shows what we are fighting for.
Spread the news around that we're victory bound,
With our hearts we pledge anew
We'll replace you men while you fight at the front
For the WAC is a soldier too.

......
The US Army WAC

Have you heard of the girls of the Army
Who took the country by storm?
We belong to American Forces,
And we wear a smart uniform.
We're drilling and training and learning
To master the true Army way,
And take the place of soldiers
Who are needed for the fray.
Chorus
At duty's call, we offered all,
We're the U.S. Army WAC.
Releasing men to fight and win
with a mightier attack.
We're in to stay until the day
Our boys bring the Victory back,
Among the brave, our banner wave
We're the U.S. Army WAC.
.