Sources
.
Below I have listed reference material about the WAAC/WAC that might be useful for all who want to get more information. Many of these sources I have used for the background information presented on this website. This list is not meant to be a complete arrangement. I'm still searching for more and I would be very happy about everyone who can recommend further interesting material.
.
.
Official Sources
.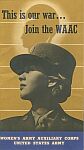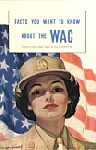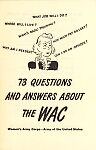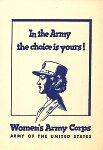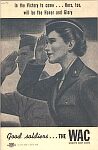 .
This is our war ... Join the WAAC
(LX 93-RPB-2-26-43-500M)
Facts you want to know about the WAC (LB-X-10-RPB-12-31-43-500M)
73 questions and answers about the WAC (LB-X-22-RPB-12-31-43-500M)
.In the Army the choice is yours! (LX-136-RPB-3-15-44-250M)
.Good soldiers ... the WAC (LB-X-60-RPB-11-30-44-50M)
..
Many different recruiting brochures were distributed to encourage women to join the WAAC/WAC during WWII. On the left is only a small list of them.
These official brochures give much information about purposes of WAAC/WAC, requirements for joining etc.
The Women Veterans Historical Collection
represents the content of some recruitment brochures online
.
.
.
Our Wounded Need Care, LX-167-RPB-
1-27-45-100M
.
This recruitment brochure encourages young women to join a hospital corps. It describes the necessity of more trained technicians capable of assisting Army medical officers and Army nurses in medical and surgical wards.
.
WAC Application Form, F-X-1-RPB-
8-16-43-100M
This application form from 1943 contains all the data an applicant had to fill out for enlistment. Such forms were often sent in an envelope to interested women accompanied by an encouraging personal letter of a WAC recruiting officer.
.
A Wardrobe for the Women of the Army by Erna Risch, Q.M.C. Historical Studies No. 12, 1945.
.
Detailed description of the development of all WWII uniform garments of Army Nurses, WAACs/WACs, WASP, Army Hostesses and Librarians.
.
The Story of the WAC in the ETO issued by the Orientation Branch, Information and Education Division, Hq. USFET, 1945.
.
Detailed record of the vital services performed by the Women's Army Corps in the European Theater.
.
Women's Army Song Book, War Department, 1 August 1944
Includes patriotic songs, service songs, WAC songs and parodies, popular favorites and songs of the United Nations. Especially interesting for WAC reenactors.
* Some songs from this book are presented under "Facts about the WACs" on this homepage.
.
W.A.C. Field Manual Pysical Training, War Department, 15 July 1943
Members of the WAC had to be fit. This books gives the instructions for all the excercises that should the WAC help to reach this goal. Includes practical hints on unarmed self-defense.
.
Army Regulations No. 600-37 Personnel, Prescribed Service Uniform - Women Personnel of the Army, April 1945
.
The Army Regulations list and describe authorized uniform items and insignia, explain their prescribed wearing, and contain some illustrative drawings.
.
Army Service Forces Quartermaster Supply Catalog, 3-2, List of Items for Troop Issue: WACs' and Nurses' clothing and equipment
The Quartermaster Supply catalogs include many items that were issued to the WAC with pictures, stock-numbers and short descriptions. A most important reference material for WAC uniform collectors.
Parts of two catalogs are presented online here:
http://hometown.aol.co.uk/hayleymo/
myhomepage/collection.html
.
Articles, Magazines, Books
.
Ladies in Uniform
by Margaret Sprague,
Acwell Press (1943)
.
A complete guide to the women's services in the Armed Forces of the United States (WAC, WAFS, Waves, Marines Reserve, Spars). Detailed information about their purposes, recruiting requirements, payment, uniforms etc. with the intention to encourage more women to become ladies in uniform.
.
Overseas Woman, May 1945, Vol.1,No.2,
monthly publication of the Information and Education Division ETOUSA.
.
Magazine for women who serve overseas. Information about occupied countries, Allied women's organizations, experience reports, several female topics (like French fashion, marriage, ...). Insights into lives and matters of interest for women who were stationed overseas.
.
American Women in Uniform
by Mary Steel Ross,
Garden City Publishing Co.,Inc. (1943)
.
Description of several women's wartime organizations (for example Red Cross, AWHRC, AWVS, AER, USO, and many more) especially their uniforms and insignia
.
Yes, Ma'am. The Personal Papers of a WAAC Private by Auxiliary Elizabeth R. Pollock (1943)
This book publishes the letters WAAC Private Pollock wrote her family at home. She was one of the first to enlist in July 1942 after the foundation of the WAAC. Most vivid and authentic inside story about the daily life of a WAAC.
.
Dress Right, Dress. The Story of the Wacs by Margaret Flint, Dodd, Mead & Company (1943)
This autobiography of a WAC shows two posts besides Des Moines, with Wacs actually "in the field". It describes several kinds of special training, and the customs and traditions which have developed in one year within the Corps.
.
The Youngest WAAC
by Bernadine Bailey (1943)
.
Book within a novel series for girls about a young WAAC. It describes her adventurous way through basic training up to earning a rank as officer. Written with the cooperation and assistance of several WAAC officers of different ranges.
The second volume is named "The Youngest WAAC overseas".
.
Norma Kent of the WACS by Roy J. Snell, Whitman Publishing Company (1943)
Book of the "Fighters For Freedom Series" for girls. It tells the fictional story of WAC Norma Kent who experiences adventures with spies and an enemy invasion while she works as Intercepter Controller at the coast of New England.
.
Winnie the WAC
by Cpl. Vic Herman (1945)
.
"Winnie the WAC" cartoons were published weekly in Camp newspapers (later compiled in this book). They give humorous insight view into different parts of WAC life such as basic training, on the job and off the job, promotion, men, overseas duty, and furlough. They play with male prejudices and fears and honor the contributions of the WAC during WWII in their own way.
.
.
WAC postcards by Beals, Des Moines, Iowa
.
Set of 30 postcards with various humorous WAC motifs.
Some with Anti-Hitler propaganda demonstrating that the German dictator should fear the new American power of women, and others poking fun at special problems of female Army life.
.
The Officer's Guide by the Military Service Publishing Company (1943)
The Officer's Guide contains all kind of information useful for Army Officers including uniforms and equipment, military courtesy, leadership etc. A special part is dedicated to the WAC.
.
Movies
.
Four Jills in a Jeep
directed by William A. Seiter, Black & White (1944)
Type: Musical / Romance / W
Reenactments of actual USO experiences of its 4 female stars entertaining troops overseas. Staring Kay Francis, Carole Landis, Martha Raye, Mitzi Mayfair ... Among others the 4 entertainment stars meet WAC members in England and provide help in a hospital within North Africa.
.

Keep Your Powder Dry
directed by Edward Buzzell, Black & White (1945)
Type: Drama / War
A group of women from different backgrounds try to adjust to their new lives after enlisting in the Womens Army Corps.
Lana Turner looks superb in her new issued tropical worsted summer uniform and off-duty dress.
A 1945 review points out: "Details are accurate, as far as rules and uniforms go .... It is unfortunate that the whole plot centers about frictions between the two main characters because it gives a rather distorted view of women's ability to get along with each other."
.
(Postwar movies)
.
I was a Male War Bride directed by Howard Hawks, Black & White (1949)
Type: Satire / Romance
On a mission in occupied Germany shortly after end of war, a French army captain falls in love with an American WAC lieutenant while on a joint assignment. They have many funny adventures until they are able to marry. The French captain has to go to America as a "male war bride" when his wife is ordered home.
Great comedy with a fantastic Mr. Grant. Nice examples of ETO typical WAC clothing.
.
Never Wave at a WAC
directed by: Norman Z. McLeod, Black & White (1952)
Type: Comedy / War
A divorced socialite decides to join the Army because she wants to be near her boyfriend who is a colonel. She soon encounters many difficulties with the Army lifestyle. Parts of it were filmed on location at the Women's Army Corps training center at Fort Lee, Virginia.
.
The WAC from Walla Walla directed by: William Witney, Black & White (1952)
Type: Comedy / Musical
A small-town girl inadvertently joins the WAC. She decides to turn her life around and make the best of the situation. The movie is quite crazy and surely not everyone's taste. Additionally, not very interesting regarding WAC postwar uniform attire.
.
Francis joins the Wacs
directed by Arthur Lubin, Black & White (1954) Type: Comedy / Fantasy
Because of a clerical error Lieutenant Peter Stirling is sent to a female unit. There he mets his old friend Francis, a talking mule, again. Both help the WAC to win a camouflage exercise against male soldiers. Nice examples of postwar WAC uniforms. Not as bad as a story with a talking mule might be expected.
.
.
.
History Books
.
U.S. Army Uniforms of World War II by Shelby L. Stanton, Stackpole books, ISBN 0-8117-2595-2 (1991).
Although the book mainly describes male uniforms of the Army it contains a very good section on women's uniforms. Especially to note are the rare period black and white photos of women's field attire.
Recommended are also the two following books by Shelby L. Stanton about "U.S. Army uniforms of the Cold War" and "U.S. Army uniforms of the Korean War" representing postwar WAC uniforms.
.
The Women's Army Corps by
Mattie E. Treadwell, CMH Pub 11-8 (1954).
Most detailed book about WAAC and WAC history. Entertainingly written by Mattie E. Treadwell who served with the WAAC and WAC herself.
Online Publication can be found under:
http://www.army.mil/cmh-pg/books/wwii/Wac/
.
The Women's Army Corps 1945-1978 by Bettie J. Morden, Center of Military History United States Army, (1990).
Good introductory chapter on development of the WAAC/WAC in WWII. Also contains an appendix about WAC uniforms with color pictures. Unfortunately, there are slight mistakes and inaccuracies in this special appendix chapter.
Online publication can be found under:
http://www.army.mil/cmh-pg/books/wac/
.
The Women's Army Corps:
A Commemoration of World War II Service by Judith A. Bellafaire, CMH Publication 72-15
Great informative overview about WAAC/WAC history during WWII.
Online Publication can be found under:
http://www.army.mil/cmh-pg/brochures/wac/wac.htm
.
Creating GI Jane. Sexuality and Power in the Women's Army Corps during WWII by Leisa D. Meyer, Columbia University Press, ISBN 0-231-10144-9 (1996)
Excellent study about the problems of the Women's Army Corps regarding the sexuality and race of its female personnel serving in a male and white dominated surrounding.
.
In Defense of a Nation - Servicewomen in World War II by Major General Jeanne M. Holm, USAF
(Ret.), Vandamere Press, ISBN 0-918339-43-X (1998)
This book contains excellent overviews of several WWII women's organization (like WAVES, SPARS, WAC, ANC, NNC, WASP, Women Marines) illustrated with nice black and white photographs.
.
Dressed for Duty. America's Women in Uniform 1898-1973 (Volume Two) by Jill Halcomb Smith, R. James Bender Publishing, ISBN 0-912138-85-8 (2004)
The two volumes about women's organizations of the last century cover all military branches and especially give interesting details about several mostly forgotten civilian organizations.
It contains many original photographs and some color pictures of uniform items.
The chapter about the WAC is in Volume 2.
.
Wacs: Women's Army Corps by Vera S. Williams, ISBN-13: 978-0760301395 (1997)
This book written by Vera S. Williams about the WACs includes stories, anecdotes, some photographs, excerpts from scrapbooks, etc.
.
World War II Allied Women's Services by Martin Brayley, Osprey Publishing, ISBN 1-84176-053-06 (2001).
Very short overview about allied women's services of WWII (from the USA: WAAC/WAC, WAVES, Marines Reserve, Spars). In addition to black and white photos it contains colored drawings of different uniforms.
.
Memoirs
.
Battle of the WAC by Carol Hossner Bessey, Morris Publishing, ISBN 0-9670579-0-6 (1999)
..
Unlike the enhanced descriptions of the fictional WWII youth books, this biography decribes the problems members of the WAAC/WAC had to face. Interesting and vivid individual insight view of a former member of the corps.
.
One Woman's Army: A Black Officer Remembers the WAC by Charity Adams Earley, ISBN 9780890966945 (1989)
A Black officer remembers her experiences in the Women's Army Corps during WWII. Earley was the first black officer commissioned in the WAAC. Later she commanded as major the 6888th Central Postal Directory Battalion in Europe, the only unit of black women to serve overseas during WWII.
.
A Woman's War in the South Pacific. Lady G.I. The Memoir of Irene Brion by Irene Brion, Presidio Press, ISBN 0-89141-633-1 (1997)
The book describes the experiences of Irene Brion in the WAAC and WAC. Relying on letters, scrap book items, photos and memories of her and her fellow WACs she gives an especially interesting insight view in the life of a WAC who was assigned to the South Pacific during the war. The book contains many great b&w pictures.
.
In the Company of WACs by Elna Hilliard Grahn, Sunflower University Press (1993)
Elna Hilliard Grahn served in the WAC/WAAC from 1942-1946 and became a Major. The book contains her recollections and observation of life in the military. Contains several b&w pictures.
.
One Woman's War. Letters Home from the Women's Army Corps - 1944-1946 by Anne Bosanko Green, MHS Press, ISBN 0-87351-286-3 (1989)
The Book contains the letters which Anne sent back to her parents back in Minnesota weekly while serving in the WAC. Interesting insight in her daily life covering for example her homesickness, army procedures, travel, off-duty experiences, family bonds, etc.
.
Dear Sergeant Honey by Ceil Stetson, www.bbotw.com, ISBN: 0-7414-4745-2 (2008)
Leaving her home, family, job, friends, and a fiancée, she joined the Women's Auxiliary Army Corps in World War II. This is her story in her words. Book excerpts can be read here:
http://www.dearsergeanthoney.com
.
AN OFFICER AND A LADY: The World War II Letters of Lt. Col. Betty Bandel, Women's Army Corps. Edited by Sylvia J. Bugbee, ISBN-13: 978-1584653776 (2004)
From 1942 to 1945, Lt. Col. Betty Bandel served in the WAAC later WAC, eventually heading the WAC Division of the Army Air Force. During these years she wrote hundreds of letters to family and friends. Her letters are rich with detail about the WAC's contribution to the war effort and the inner workings of the first large, non-nurse contingent of American military women.
.
.
.
.
Free a Man to Fight! Women Soldiers of Word War II by Mindy Pomper & RYS Productions (1999)
.
Great video that features rare archival footage interwoven with intimate interviews of women who served in the military during WWII. It includes several interviews with former members of the WAC.
Unfortuntaley, the documentary contains a few mistakes. More information about these inaccuracies can be found here
.
.
.
Women At War - from the home front to the front lines by 'V for Victory', Atlas Video Inc. (1991)
This documentary consists mainly of original newsreel stories to detail the vital contributions made by women during World War II, going from the factories to the battlefields. Covers WAC, Army Nurses, WAVES, Marines, Navy Nurses, Cadet Nurses, etc.
.
.
.
.

U.S. Army Women's Museum

US Army Women's Museum - Fort Lee, Virginia. Detailed section about WAAC/WAC uniforms with high quality b&w photos.
.


Wisconsin Department
of Veteran Affairs

Cyber Exhibit "This is my war too!"Women in the Military The Women's Army Corps. The website presents a very good historical overview and color pictures of uniforms
.


Women Veterans Historical Collection

The Women Veterans Historical Collection documents the female experience in the Armed Forces through letters, papers, photographs, published materials, uniforms, medals and oral histories. Impressive and most informative website!
.

WWII Living History
Militaria/Research
-Women's Services Collection-

Excellent British website about WAAC/WAC, ANC, Red Cross, WADCA. Good information about historical background and uniforms. The site presents parts of two Quartermaster Catalogs for female Army personnel online. Pictures of living history events and WWII event dates in England.
.
.

Hardscrabblefarm

World War II living history & reenacting information with great reference material about WAC (for example, placement of Insignia, WAC clothing issue,WAC personal items) and other very useful hints about how to salute or how to tie a Regular, Windsor, and Bow Tie.
.


Casque & Rouge-A-Levres

Excellent French homepage that contains many information about the history and uniforms of the WAC and ANC (and ANC flight nurses).
.



Dear Sergeant Honey

This site is dedicated to the men and women of the Greatest Generation especially the WACs of the 9th Air Force who served in the ETO during World War II. The mother of the webmaster was one of those WACs and her story will be unfolding on these pages.
.