Facts about the WAVES

.

WAVE Songs

Within a short time the WAVES built up its own tradition. An important part of this tradition was the WAVES own songs. This strengthened the feeling of belonging to a big familiar community. They expressed their self-confidence and esteem to be part of the Navy of the United States. The introduction in the song book of the WAVES "Marching To Victory" states:
.
....
"Singing people are happy people. And so the WAVES have a song for everything. When something good happens, when something not pleasant comes along, when swinging up from drill on a glowing autumn day, when struggling on the icy hills to class on a bitter Saturday morning, when sitting waiting, just waiting, standing in a line, somewhere in the ranks a song starts and grows and swells in volume until all are singing.
.
Some of the songs we have printed here - others after their moment have died away. And so we dedicate this booklet to those who will "carry on" with the hope that they will have a feeling of "togetherness" with us and those who come after as they raise their voices in song."
.

In the following a few examples of songs from the WAVES' song book
"Marching To Victory"
.
Waves Of The Navy


.
WAVES of the Navy,
There's a ship sailing down the bay.
And she won't slip into port again
Until that Victory Day.
Carry on for that gallant ship
And for every hero brave
Who will find ashore, his man-sized chore
Was done by a Navy WAVE.

Words by Betty St. Clair
(Written to harmonize with "Anchors Aweigh")
.
Song Of The WAVES


.
North and south and east and west,
we're marching as one,
We are here to serve our country
Till the war is done.
Heads uplifted proudly
For the Navy Blue and Gold,
We cannot do the fighting,
but tradition we uphold.
As we swing along with our purpose strong
Bearing our ensign high,
To oppressors now our challenge
We have hurled,
We free our Navy's men
Who will free the world.
(Words by Jane Leeds)
.
A Guy To Tie My Tie
(Original Tune)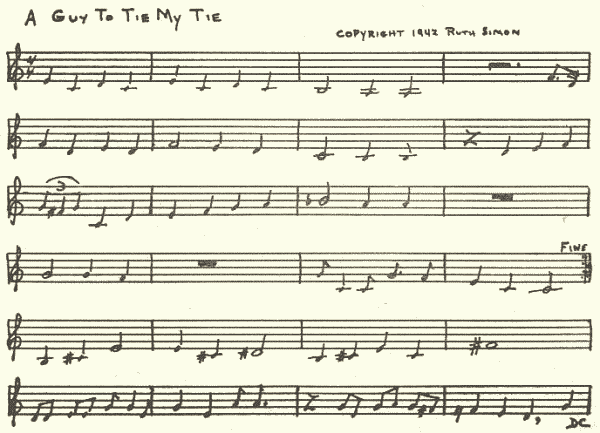 .
I Don't need a man to give me sympathy.
Why I needed it before is a mystery.
But there are things I can't do alone
No matter how I try.
High and dry,
I need a guy to tie my tie.

What with Navy passes and with service rates
I don't need a following of handsome dates.
But comes 0641, my darling,
Then for you I sigh,
It's no lie
I need a guy to tie my tie.

Had to choose, win or lose,
Can't be hesitant.
Gotta keep my eyes on the blue horizon
At the pleasure of the president.
but Darling, where you go
You know my heart goes too.
Some day this will end
And I'll be back with you
And every morning you#ll find
This little WAVE is standing by
To comply
I'll be the guy to tie your tie.

Like all naval personnel, the WAVES had to become acquainted with typical Navy Lingo. No other service spoke and still speaks in such traditional code. For example, some archaic English words remained common in naval jargon, such as "aye" (the common English word for "Yes" until the 16th century).

Beneath all land-lubbers will find some useful clarifications:

The primary rule of Navy code is never to call a ship a "boat". A boat is carried on a ship, buster, and don't you forget it.
It's not a rope, it's a line. Its not a wall, it's a bulkhead. Even if you are not quarted on dry land, it is still a bulkhead. You walk on a deck, not a floor, and you clean the same with a swab, not a mop. Above is the overhead, not the ceiling, and you walk down the passageway, not the hallway.
You open a hatch, not a door, and you don't go up the stairs, you climb the ladder. Ahead of you is forward, and to the rear is aft. Right is starboard, and left is port.
You don't go to the bathroom, you go to the head. Sailors eat in a chow hall where spinach is sea weed andketchup is read lead. Scuttlebutt is Navy rumor.
A Navy ship doesn't get torpeadoed by the enemy, it "takes a fish.". If your're ailing, report to the sick bay where Navy Nurses, hospital corpsmen and Navy medical officers will take care of you. Should your ship sink or your plane go down, you're in the drink. If you don't survive, you deep-sixed it.
Navy code is not kind to other services. Soldiers are dogfaces, Marines are bellhops, and Coast Gaurd are freshwaters.

... take care that everything is shipshape!

Parts of these helpful insights in Navy Lingo were copied form an article by Blackie Sherrod printed in the newsletter from the Dallas Morning News/Thursday, August 28, 1997.

.

.

[ I. Development ] [ II. Facts about the WAVES ] [ III. Uniforms ] [ IV. Sources ]